Published by the University of Mississippi Medical Center
By: Ruth Cummins, ricummins@umc.edu
When Will Townes' blood pressure needed managing, he started on a prescription drug but wasn't getting the results he wanted to be his healthiest self.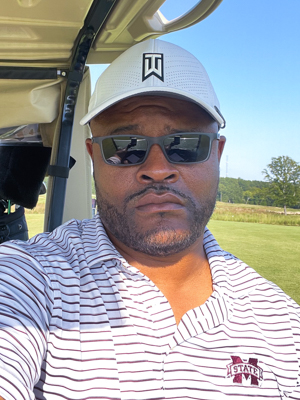 "It was not regulating my blood pressure at all, and it was making it worse," said Townes, the married dad of two girls and fleet manager for Madison-based Eutaw Construction Co. "My mom told me I needed to go to a specialist, and that's why I contacted Dr. (Donald "Trey") Clark."
Townes' wife, Tiffany, accompanied him to his appointment with Clark, a cardiologist and associate professor in the University of Mississippi Medical Center's Division of Cardiology. "The first thing he told me was that I was on the wrong medicine," Townes remembered.
Clark asked Townes if he'd like to join a UMMC telehealth program that monitors hypertension patients remotely, with providers regularly communicating with participants to keep tabs on their blood pressure and work with them to bring it to a more healthy level.
"My wife said, 'You'd better,'" Townes joked. "I was the first person enlisted in the program."
He focused on his hypertension by taking part in a six-month study that examined how monitoring blood pressure levels through telemedicine results in better outcomes for patients. One of 120 people in the study, Townes used a blood pressure cuff to get regular readings that were transmitted from an iPad into his UMMC medical record through Bluetooth technology.
UMMC is a national leader in remote patient monitoring, or RPM, a documented way to improve the health of patients who live with chronic illnesses such as hypertension and heart disease. It's conducted at UMMC through the Center for Telehealth, where a dedicated team monitors the health of hundreds of patients who cope with those conditions.
Although data from many national studies have been published detailing RPM in predominately white populations with higher average incomes, that's less often the case with populations that look more like Mississippi, which also includes a mix of African American, rural and low-income residents.
Results of UMMC's study, which concluded in June 2020, appeared Nov. 10 in Hypertension, the journal of the American Heart Association.
"We've never published clinical outcomes for the remote patient monitoring (RPM) hypertension program," said Clark, who also serves as medical director of RPM. "The major take home is that this study demonstrates that telehealth treatment strategies for hypertension are effective in underserved populations."
What sets the UMMC study apart, Clark said, is the broad population studied: Of the 120 participants, 27 percent live in a rural area and 56 percent are African American. An additional 46 percent were considered low income.
"There have been gaps in the literature on whether these type telehealth interventions would be as beneficial in this population," Clark said. "Our findings demonstrate that it is, and pretty convincingly so. That is the population most impacted by hypertension, so it's the population that stands to benefit the most from interventions like this."
More than 900 blood pressure reviews and 200 medication adjustments were tracked during the study, resulting in a significant increase in the number of prescribed antihypertensive medications. The study also validated previous work that showed blood pressure telemonitoring that adds a pharmacist to the case management team is superior to more traditional care.
Nurses at the Center for Telehealth are advocates for patients who rotate in and out of RPM programs depending on how well controlled their conditions are. They offer them coaching and education on how to manage their conditions throughout their time in the program.
If a patient's electronic data shows something's amiss, they'll get an immediate call from a telehealth nurse to discuss reasons why it's out of kilter and remedies to move it back within a normal range.
"I enjoyed them calling me when my blood pressure wasn't good, and making sure I was eating the right things and had a lower sodium intake," Townes said. "They had a lot of programs that showed me how much to exercise, and how to do it. It helped me to get myself together."
Nurses such as RN care coordinator Shirley Stasher are the backbone of the RPM program. Stasher might never physically see her patients, but she builds a relationship with them and trouble-shoots barriers that could keep them from adhering to RPM.
When patients begin the program, Stasher said, "we educate them on taking their blood pressure measurements using the correct technique. If it's greater than 180/120, we give them a call, and we send information to our pharmacist to help patients get their blood pressure under control."
Patients are required to submit their readings at least 16 days of the month and to set goals for a reduction in their blood pressure.
"We do whatever it takes to make it work," Stasher said.
That included spending many hours teaching an elderly woman how to put on her blood pressure cuff and use the tablet to transmit her health data. "She lived alone and didn't have any help," Stasher said. "I called her this week, and she's at her goal for the first time. She's 84."
"When it was over, I was kind of missing that phone call," said Townes, who remains Clark's patient. "One of the great things about Dr. Clark is that he gave me his cell phone number, and he will pick up and answer my calls and my text messages. You don't usually get that from a doctor."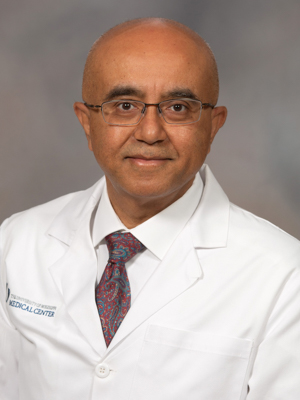 It's important to note that the RPM study came in the middle of a pandemic, which saw telehealth experience exponential growth, said Dr. Saurabh Chandra, the Center for Telehealth's executive director. That boom, however, saw concerns about access to telehealth by all, and not just those who are tech-savvy and live in areas with good internet connectivity.
"In this context, this is an extremely important study," Chandra said. "The results demonstrate that telehealth can provide equitable benefits for the traditionally underserved population."
Joining Clark and Chandra as study authors are Dr. Richard Summers, professor of emergency medicine and associate vice chancellor for research; Dr. Daniel Jones, professor of medicine and physiology and director of clinical and population science in UMMC's Mississippi Center for Obesity Research; Dr. Yunxi Zhang, assistant professor in the Department of Data Science; and Julia Woods, formerly a clinical pharmacist with the Center for Telehealth.